Discount Code "SAVE" GET 10% OFF at Checkout
Medically Proven, 100% Accurate

Monitors effect of Diabetes and Blood Pressure on Body

Monitors your Heart Health by Medical Grade ECG/HRV

One Device for whole Family

50 ECG/HRV Test Preloaded - Enough for 1 Year

Recharge More Test Easily, from SanketLife app
Rs 2500 Only, 1 Year Replacement Guarantee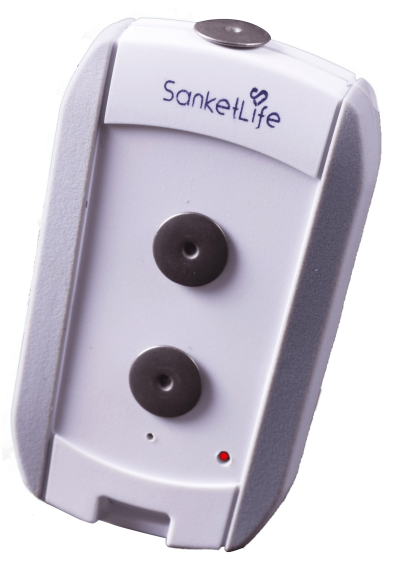 Cardiologist support available 24x7.

Measure Mental Stress Level in just 1 Minute. Daily Track Stress Levels to stay 100% Fit.
Remotely Monitor Heart health of your Loved Ones.

No Lead required, Works by Touch only.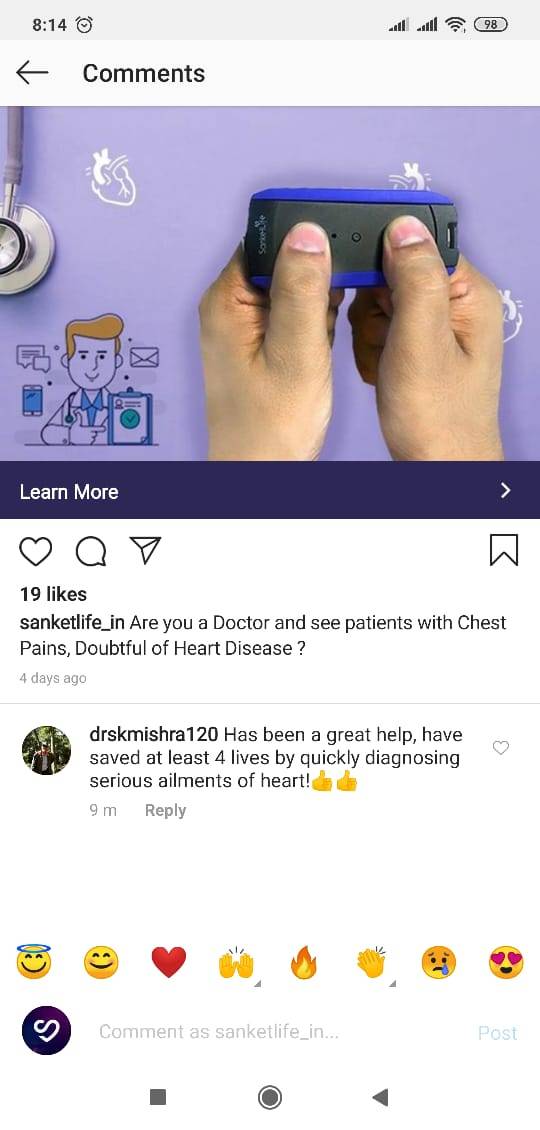 Most people running with high risk factors of Heart diseases do not even know they are on risk of Heart Disease. Irrespective of age these risk factors are becoming more and more common because of the lifestyle, pollution, stress and contamination and many such uncontrollable factors.Blood pressure is one such risk factor. High Blood pressure (BP) or hypertension if left untreated, increases the risk of Heart Attack. High blood pressure means heart is having difficulty in the flow of oxygen, hence can prove to be highly dangerous and cause heart attack. Age is no sure shot way to believe that Hypertension, heart problems etc are not going to happen to me.

No device in the world is able to achieve this !!Complete 12-Lead ECG on your smartphone with medical grade accuracy that too in a form factor of a key chain. This is the FUTURE of cardiac screening and monitoring.

Not just full ECG but SanketLife's balanced algorithms calculate Heart-rate (HR) and Heart Rate Variability (HRV) to track day to day fitness of heart and coping ability of stress. Daily,weekly or monthly trends can also be monitored.

For Blood Pressure or Diabetes
Measure Effect of Diabetes on Nervous System

Measure Effect of Blood Pressure on Heart

HRV is the Most reliable way to Check Above Effects

Just Touch Daily for 1 Minutes and Track Progress
1 Year Free Replacement Guarantee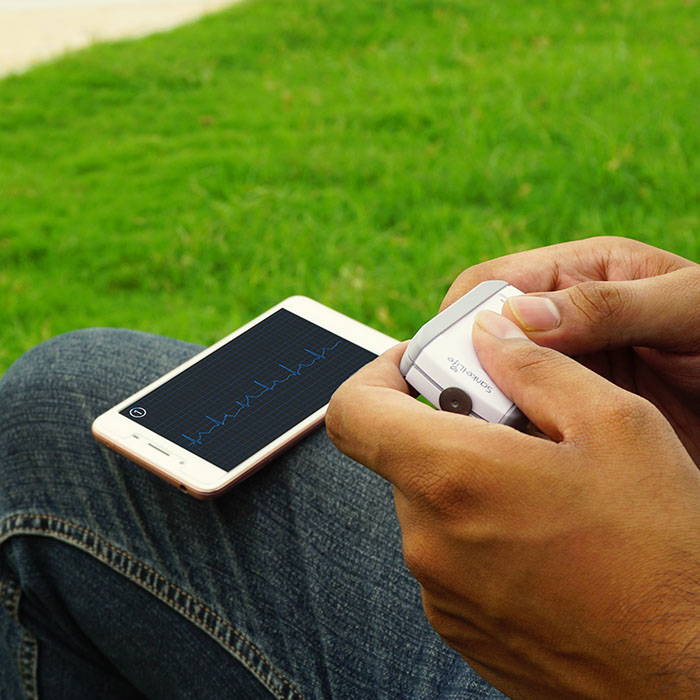 Go Beyond Measuring Diabetes/Blood Pressure
While conventional Blood Pressure and Sugar Monitor tells you Blood Pressure Level or Sugar Level, they don't ever tell you, How fit your body is to combat them. If you know this, you can respond better, take more measures, but More importantly, understand your overall Health Better than ever.
By Touching SanketLife device from both Thumbs, for just 1 Minute, Instant HRV Analysis is done via ECG. Among Many parameters that SanketLife Calculates, One such Parameter is SDNN
SDNN has been researched worldwide, and it gives a Straight Corrleation to the effect of Blood Pressure OR Diabetes on your Body.
For Age 30s-40s, SDNN values above 51, indicate that your body is still in good shape, and ready to fight back. With SDNN below 21, your body can undergo chronic Stress Induced Diseases.
For Age 50s -60s , SDNN above 40 is considered Great, while SDNN below 15, is Highly Dangerous.
Using HRV - Detect Below Diseases, Before Any test Can Detect
Diabetic autonomic neuropathy
Calcification in Blood Vessels
Is Blood pressure enough to know I am having a heart disease?
Blood Pressure can rise when exercising or when in stress, but this doesn't mean that all hypertensive people will have a heart attack. Over a period of time High BP can restrict the normal flow of oxygen to heart muscle, which can eventually lead to heart attack. This usually happens when a plaque is formed around Heart muscle or it hardens the arteries, eventually impeding the blood flow, hence a heart attack.
Is Monitoring Blood pressure enough for me to curb a Heart attack?
Monitoring blood pressure is very important in case you are hypertensive to make sure it is not damaging the heart muscles. However, just monitoring BP will not make sure that your Heart is safe, because Hypertension is sometimes called a 'Silent Killer' because it has little or no symptoms.
What is a 'Silent Heart Attack'?
A Silent Heart attack is when little or no symptoms are presented when a Heart attack happens. The symptoms which are present can be very normal like fatigue, flu-like symptoms, discomfort in chest, jaw or left arm or indigestion. They can easily be ignored. The only way to detect a heart disease or Heart attack is to take an Electrocardiogram (ECG)..
ECG is a test which measures an electrical activity of heart and shows if the heart is working properly or not. ECG is the best way to find whether your high blood pressure has caused any damage to your Heart.Some of the things an ECG reading can detect are:cholesterol blocking your heart's blood supplya silent heart attack in the pastenlargement of one side of the heartabnormal heart rhythms and Heart rate
HRV is Calculated from ECG
How do I take an ECG/HRV regularly, considering it is expensive and cumbersome ?
ECG traditionally has been associated with multiple wires coming out of a big bulky machine attach, with body at multiple points on chest and limb with ECG displaying on a monitor. But, with the advent of technology and innovation happening in medical technology we now present a pocket ECG device SanketLife, which is capable of taking full medical grade ECG just by touching the sensors at different chest points and the ECG is displayed on your smartphone. Not just this, SanketLife connects you instantly with your doctors with your ECG report with doctor providing instant review within minutes.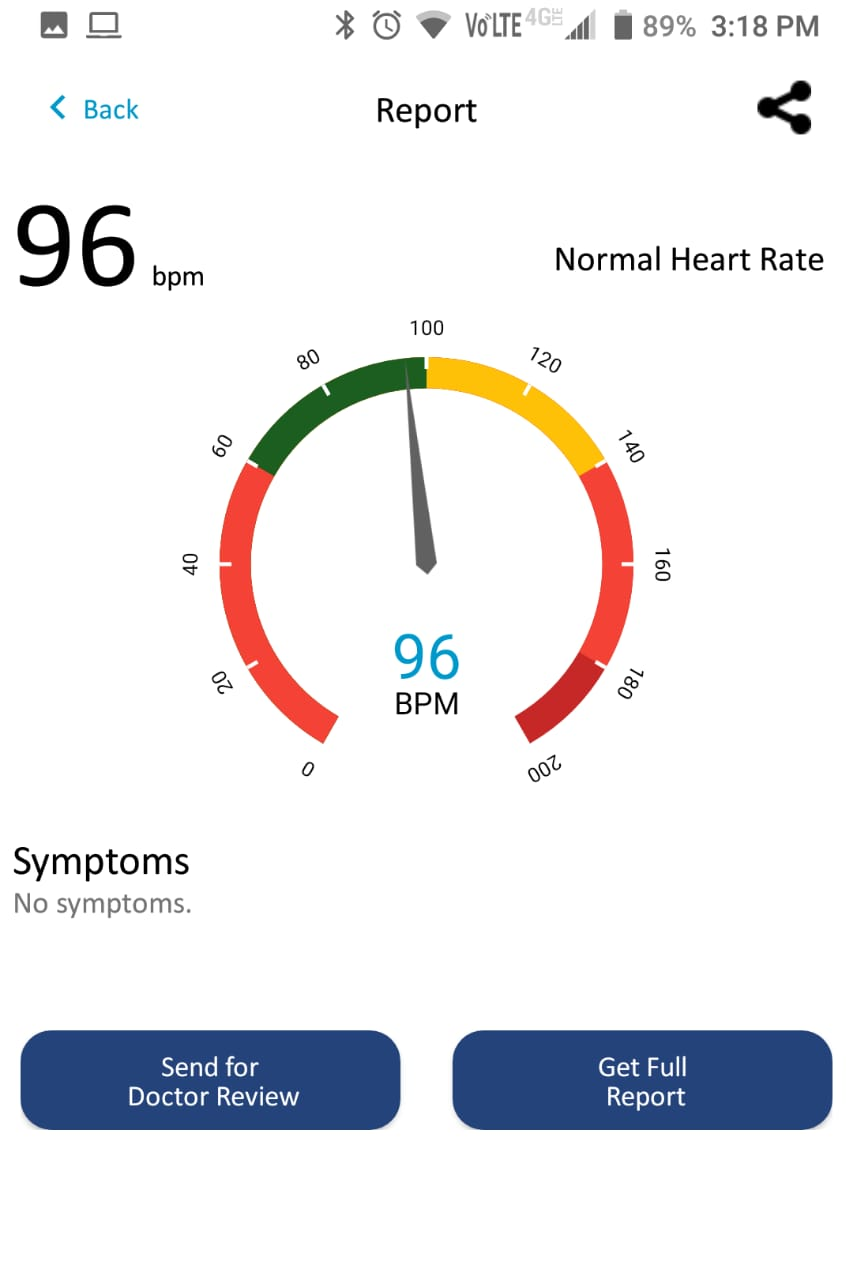 More Than 1.5 Lac Users in India
Let the stress take a rest
Stress has a lot to do on your heart health, your stress directly influences your heart and can be a precursor to many heart diseases. Mental and emotional stress causes a direct impact on heart health and we need to know how much our heart is healthy and how much stress it can cope up with. Having too much stress for too long may be bad for your heart health. You need to start tracking your stress levels now and know how much damage it is causing to your heart.

While we keep hearing track your fitness with your heart rate, heart rate is actually not a parameter to track Health of heart. Heart rate variability is!! Heart rate variability (HRV) is a new way to track your heart well-being. HRV is simply the variation in time between each heartbeat. HRV is an exciting and easy way to monitor your heart fitness. Higher HRV means fitter heart, lower HRV means a weaker heart.
The gold standard to Monitor HRV is through ECG.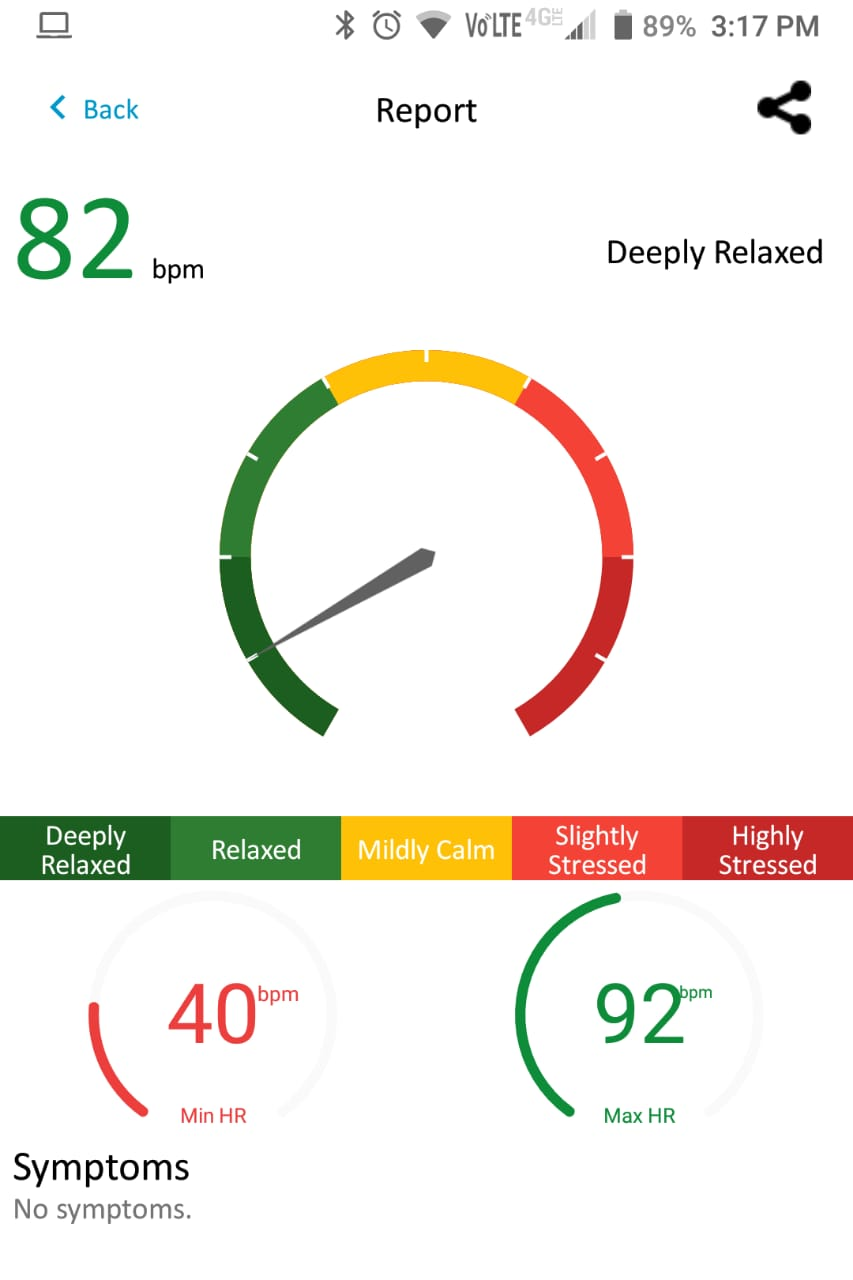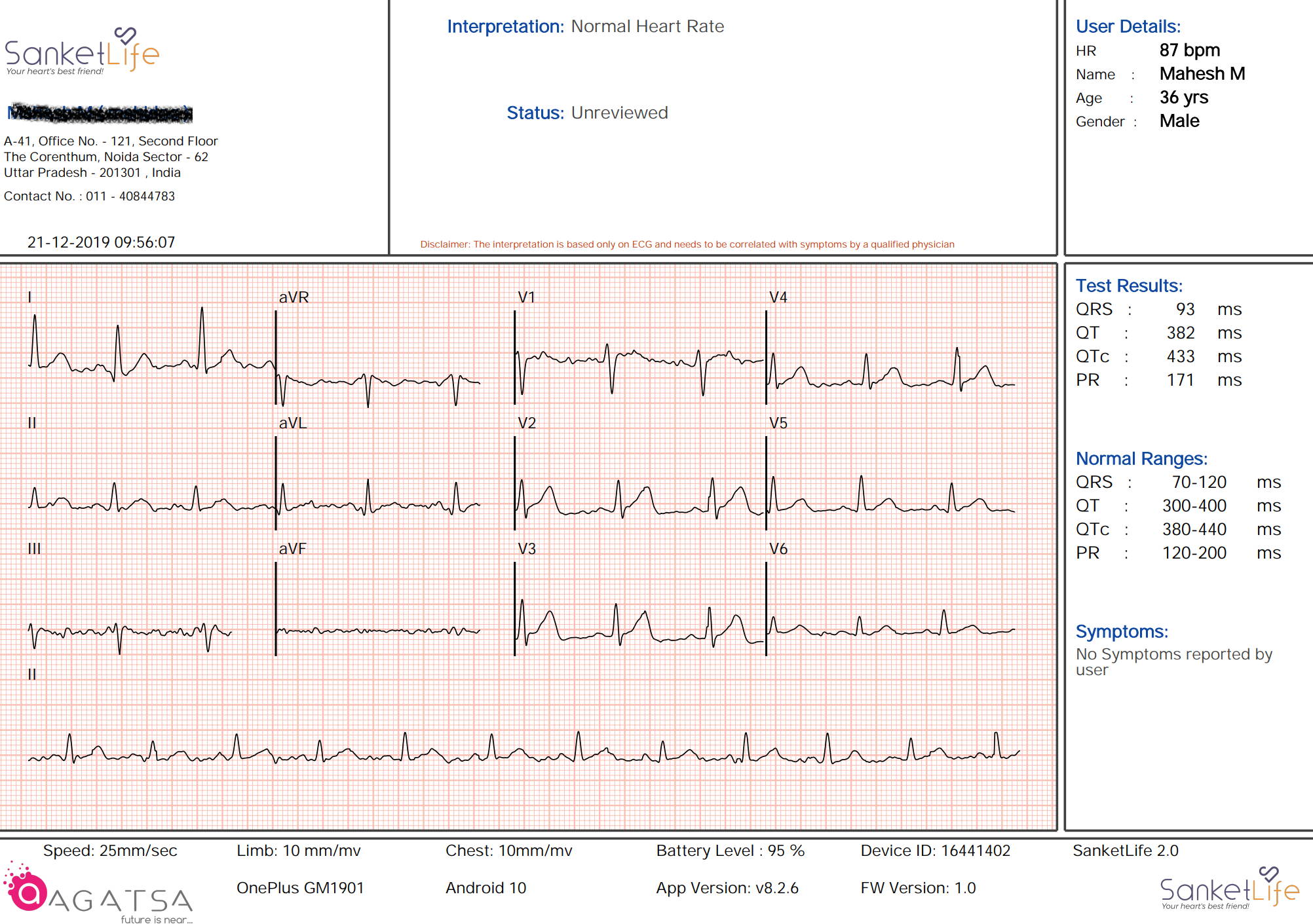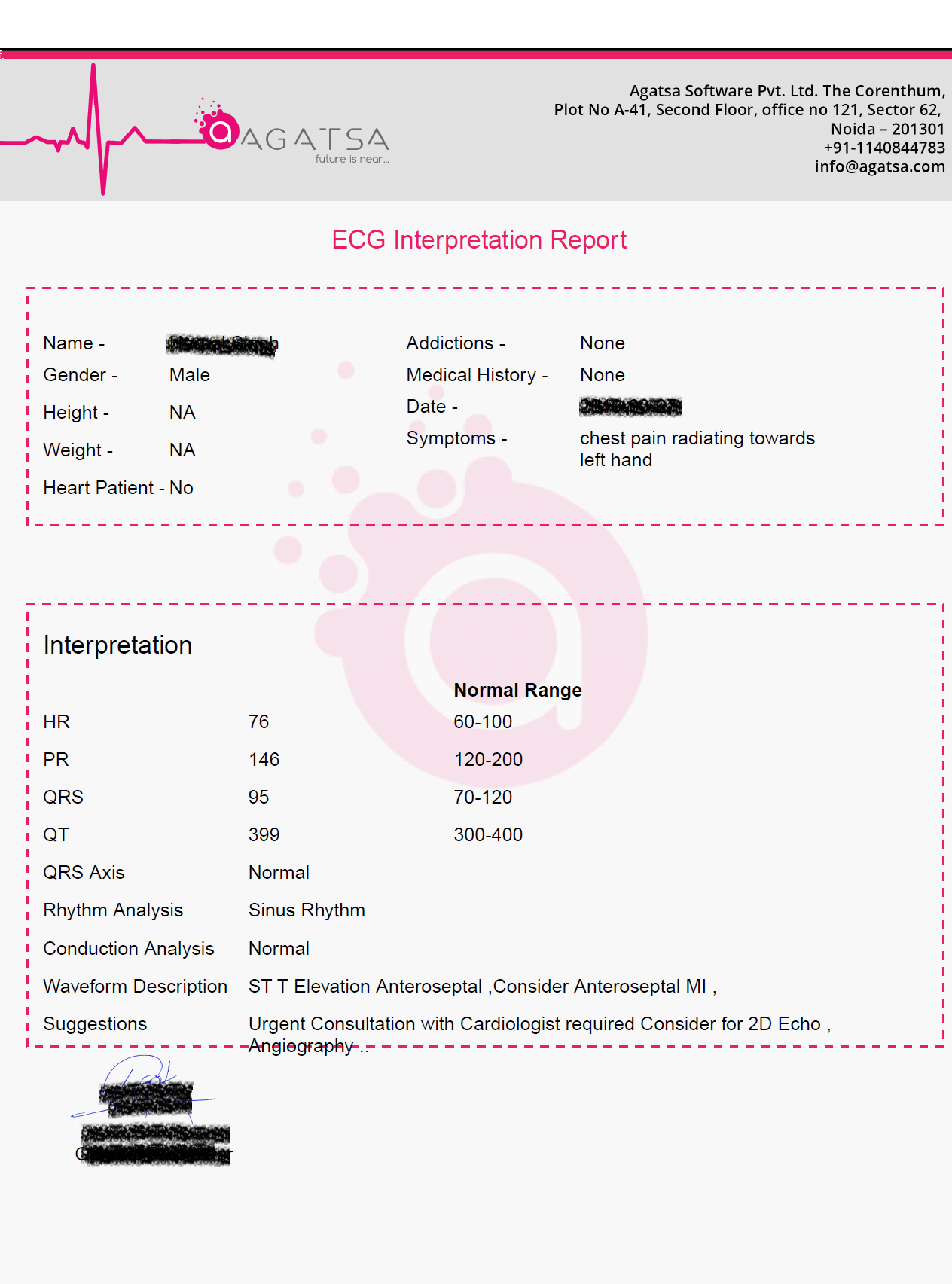 Liquid error: product form must be given a product
Liquid error: product form must be given a product